NATIONAL CONFERENCE ON "ADVANCES IN ENGINEERING & TECHNOLOGY" ORGANIZED BY M M UNIVERSITY, SADOPUR, AMBALA ON 29TH MARCH 2014
A one day National Conference on "Advances in Engineering & Technology" was organized by Maharishi Markandeshwar University, Sadopur, Ambala on 29th Mar'14.This Conference endeavored to foster discussion among researchers about frontier topics in the Computer Science, Civil, Mechanical and Electronics Engineering subjects. All accepted papers of the Conference have been published in the International Journal of Engineering Research and Applications (IJERA).
Chief Guest, Dr. Buta Singh Sidhu(Dean Academics & Dean International collaborations, PTU Jalandhar), inaugurated the event by lighting the lamp. The Conference was led forward by unwinding the epitome of the research work and hence opening of proceedings by Dr. S.D. Sharma (Vice-chancellor, MMU Sadopur), Mr. Sharvan Kumar Gupta (Registrar, MMU Sadopur), Dr. Manpreet Singh (Principal, MMU Sadopur& Conference Convener-AET), Dr. Manoj Kumar (Conference Organizing Secretary- AET).
Prof. (Dr.) Shyam S. Pattnaika(Professor and Head of Educational Television Centre of NITTTR Chandigarh) was the session chair for the technical session of Electronics & Communication Engineering. The technical session of Computer Science & Engineering was presided over by Dr. KanwaljeetSingh(Director, University Computer Centre, Punjabi University Patiala) and Dr. Vijay Katiyar(Dean Academic Affair MMU, Mullana). Dr. Ajay Kumar Duggal(Assoc. Prof., Civil Engg. Deptt. NITTTR. Chandigarh) and Prof. Upain Bhatia (Head of Civil Engineering Department MMU, Mullana) were the session chairs for the technical session of Civil Engineering. The technical session of Mechanical Engineering was presided over by Dr. Puran Chandra Tewari(Professor, Mech. Engineering Department NIT Kurukshetra)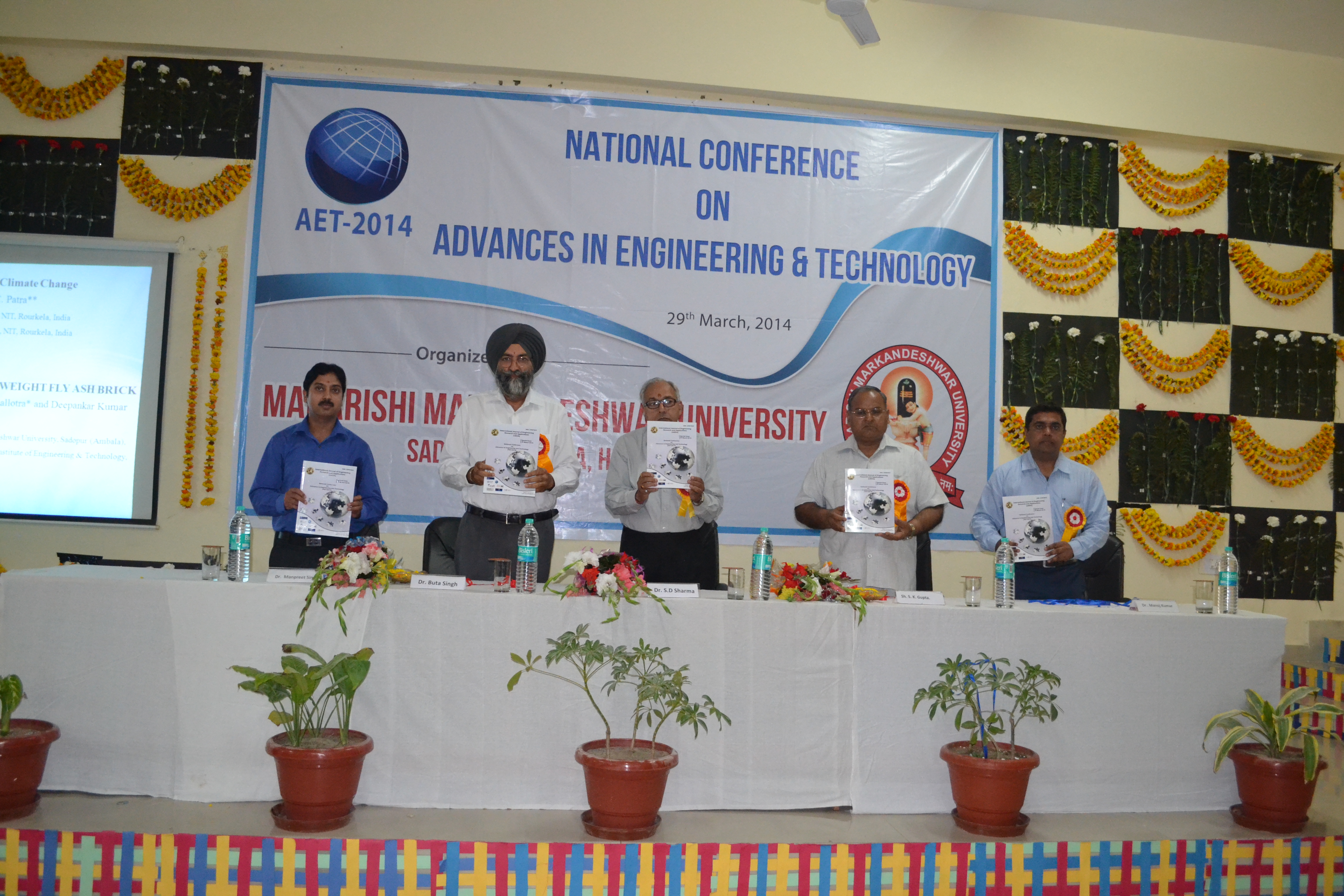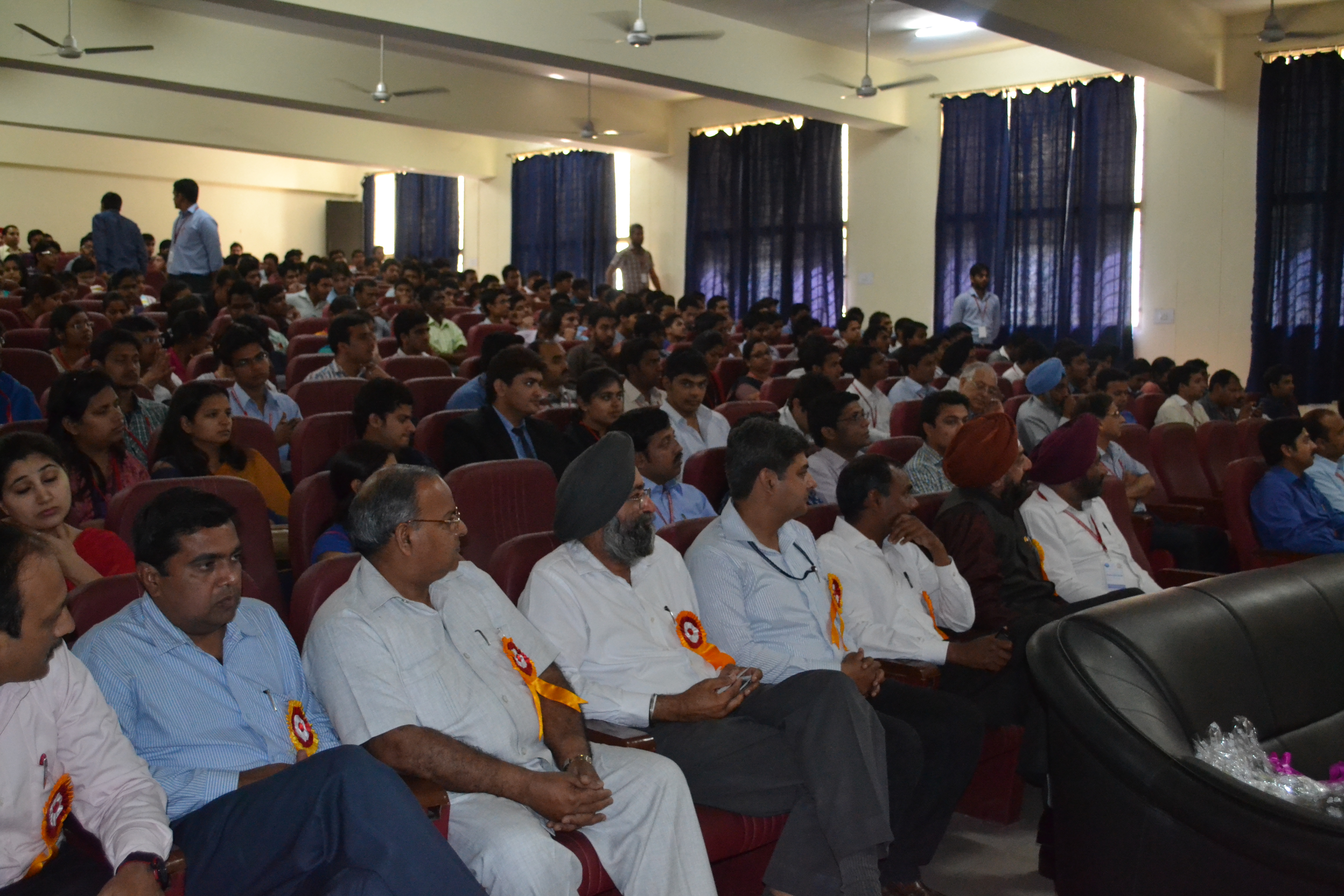 Great enthusiasm, dynamism & ebullient spirits were witnessed along with great technical proficiency and expertise. The event became a great success with the sincere and remarkable participations of the scholars from various places like IIT Guwahati, IIT Roorkee, IIT BHU, NIT Rourkela, NIT Kurukshetra, PEC, Punjabi University, GJU Hissar, Aligarh University, DCRUST Murthal, JP University, DRDO Dehradun, DIT Dehradun, AMITY Delhi, Hindustan University Chennai, Jalpaiguri Govt. Engg. College West Bengal, DRDO Hyderabad and many more.