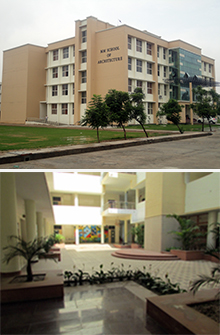 Educational tour to South India
MM School of Architecture organized 10 days Educational Tour to Southern India from 25th Jan to 6th Feb for 3rd year students. A total of 21 students were accompanied by two faculties Ar. Ravi Mahajan and Ar. Bhawna Madan. The tour was a learning experience not only for the students but also for the teachers. During the tour, Chennai, Mahabalipuram, Kanchipuram, Vellore, Pondicherry, Bangalore, Mysore, Nandi Hills, and Panjim were covered up to reinforce the rich heritage and culture of Southern India in the minds of the students.
The first destination was Chennai where they visited Valluvar Kottam, a chariot-shaped stone landmark honoring the ancient Tamil poet & philosopher Thiruvalluvar along with local sightseeing which includes Vivekanandar House, MGR square, Anna Square and Marina beach. Next day students were taken to Dakshin Chitra, a Cross cultural museum featuring 18 historical houses, along with art, crafts & performances, to understand the architectural features of south India at one place. They also visited Mahabalipuram, Kanchipuram and Vellore to see and study the temple architecture of South India.
Next day in Pondicherry, the students studied in detail the energy efficient features of the French colony popularly known as the white town of Pondicherry. They also visited Matri Mandir, Auroville and Auroville Earth Institute where they learnt about the cost and energy effective building techniques.
The trip extended to Bangalore and Mysore where students visited National gallery of Modern Art, Tipu Sultan's summer palace, Lal bagh and ISKCON temple. Students were overwhelmed to see the marvelous architecture of Mysore palace. Visit to Mysore also included Tipu Sultan's winter palace, Nandi Hills and Vrindavan gardens. Last day of Bangalore included local site seeing to UB city and Safari at Bannerghatta National Park. Trip ended covering the last destination of Panaji where students visited the famous Church of Our Lady of the Immaculate Conception, Calangute Beach and local market.
The venture was a unique experience since apart from offering the students a deeper insight into the past, it also facilitated the students to experience the lifestyle, culture, Tradition, Food habits, architecture of South India.