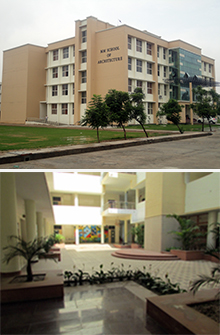 Educational Tour to Agra, Fatehpur Sikri and Delhi
MM School of architecture organised an educational tour to Agra, Fatehpur Sikri and Delhi for first year students of B. Arch. and Bsc. ID from 30 th January to 01 st February 2019. The first day commenced with visit to the mesmerising monument of Agra Fort surrounded by high sandstone walls and moat. Elements such as Chattris and different types of arches are apparent with meticulous carvings and niches. Charbagh gardens within the compound further enhance the aesthetic appeal. Tribute to Mumtaj Mahal, the Taj Mahal is another renowned building which we visited. It has distinctive onion domes and bold symmetrical planning enhanced by the use of white makrana marble in the backdrop of Yamuna River. Akbar's "City of Victory", Fatehpur Sikri is adorned by Buland Darwaza and has tomb of Salim Chisti which has the exemplary feature of serpentine brackets made of marble. On second day, we arrived in the city of Delhi and visited India Gate, the war memorial located in Rajpath designed by Sir Edwin Lutyens. Jama Masjid, built by Shah Jahan is constructed with red sandstone and has marble in-lays in elevation. We also witnessed the intricate gullies of Chandni Chowk carrying the tradition of street markets in the contemporary era of shopping malls. On the last day we travelled to the Bahai House of Worship, "The Lotus Temple" which is a modern structure by Ar. Fariborz Sahba surrounded by water bodies and gardens. The marble monument stands out in the sky due to its pointed shell structure and raised plinth.
The tour was an invigorating experience where the students got an opportunity to experience the buildings which they study in textbooks.