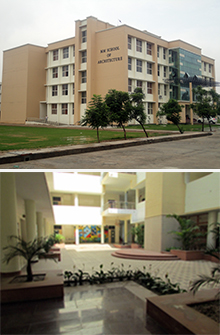 Farewell -2017
The IIIrd year students of MM School of Architecture, MM University, Sadopur, Ambala organized a farewell function on 12th May2017 to bid farewell to the outgoing batch of 2013.
The function began with the lamp lighting ceremony by Principal Ma'am and other faculty members. It was a memorable evening with the third year students putting up an entertainment programme for their seniors. The IVth year students participated in a modelling contest. The best students after the prop and question/answer round were crowned by Principal Ma'am. Harsh Thakur and Mansi Jindal of the IVth year were awarded Mr. and Miss Farewell while Anmol and Miraat were awarded with Miss and Mr Personality titles.
Principal, MM School of Architecture in her speech, wished good luck to the IVth year students for their future endeavours. She ended her speech with a message for all students- to give back to the society. The farewell function ended on a happy note with dance and dinner.