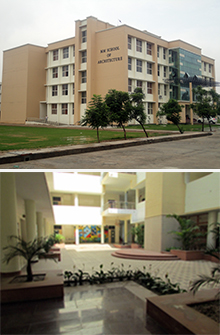 SRIJAN 2k17
The four days National fest 'SRIJAN 2k17' was inaugurated with great pomp and show in the university campus on 27th September in the evening by Honorable chief guest, an eminent architect Krishna RaoJaisim from Bangalore. On this occasion, Honorable Vice-Chancellor of the university-Dr. Harish Sharma, Registrar-Prof. Raman Gupta, Principal-Prof. Aradhana Jindal, Vice-President-Council of Architecture, Ar. Vijay Garg, Ex-chairman IIA Chd-Pb Chapter- ArSurinderBahga, and Joint Honorary Secretary IIA Haryana Chapter- ArSurinder Singh were present.
Nearly 600 plus students from 26 architecture colleges of India participated in the mega fest. During four days event, iconic lectures were organized by Ar. Jaisim (Bangalore), Ar. SatyaPrakash Varanasi (Bangalore), Ar. YatinPandya (Ahmadabad), Ar. Charanjit Shah (Delhi), Ar. Sangeet Sharma (Chandigarh), Ar. R.K. Jhingin an eminent landscape architect from Delhi and Ar. AishwaryaTipnis, an architecture conservationist from Delhi.
The students from various colleges participated in several interactive workshops on 'Ball Pen Rendering' by Ar.ChetanPansare and Ar. SnehalKulkarni, 'Mud Architecture' by Ar. SavneetKaur (Imarat Architecture), 'Conceptual Visualization' by Ar. Samruddhi, 'Sketch-Up with Plug-ins' by Ar. Pranjal Kumar, 'Design for Daylight in Buildings' by Ar. Akshay Kumar and Ar. Ashutosh Gupta, 'Business of Archipreneurship' by Ar. Rahul Jadon, 'Architecture Journalism' by Ar. PappalSuneja, etc..
Apart from these workshops, the students participated in many informal and formal fun events, sports events, cultural events, etc. Many trophies in prototype design, landscape design, main design, fashion show, dance, were given to the winners.
In all it was a confluence of the students coming from North, East, South And West colleges, where they not only participated in various events but also got to know each other through interactive sessions. On the concluding day of the fest, Ar. Charanjit Shah the Honourable Chief Guest presented Best college trophy to VARAHA School of Architecture, Vishakhapatnam. Also his book "Redefining Indian Smart and Sustainable Cities" and Ar. PappalSuneja's book "Exploration of Architectural Journalism in India" were released on this occasion.
Dussera was celebrated amidst fun by burning the effigy of Ravan made by the students of MM School of Architecture. The students of MMSOA gave a warm adieu to the students of participating colleges and Principal Prof. Aradhana Jindal congratulated all the participants and the winners.