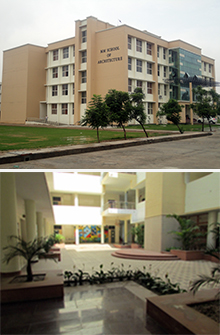 Tatoo Making Competition
MM School of Architecture organized an inter house competition of 'Tattoo making' on 8th August, 2018 as tattoos are culturally rich forms of self-expression and fulfilment. The students of all the four houses- Rajput, Mughal, Maurya and Chola participated in the competition with full spirit. It was a theme based competition in which different themes were revealed on the spot to all the four participating teams such as 'Superhero' to Maurya house, 'Angel and Demon' to Rajput house, 'Geometrical illusion' to Chola house and 'Nature' to Mughal house. All the four different houses gave a noteworthy performance by coming up with various interesting and mind-boggling designs as per the theme.
Prof. Aradhana Jindal, Principal, appreciated the efforts of all the students and declared Mughal House as the winner team followed by Chola House as they were the ones who earned the maximum points. A wave of enthusiasm amongst the students was seen during the competition. It was a fun filled activity for all the participants.