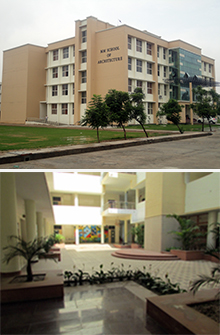 Tree Plantation in MMU, Sadopur Campus
To spread the message of 'Grow Trees & Save Environment', MM School of Architecture, MM University, Sadopur, Ambala in collaboration with Department of forest, Ambala organized Tree Plantation drive at the campus of MMU, Sadopur, Ambala on Thursday, 27th July, 2017.The programme was inaugurated byMr.SanjeevGarg, Treasurer, MM Group of Institutions by planting a tree. In his address, he laid stress on realising the importance of trees in our lives and that the initiative taken was a step towards contributing in making the environment better. He also motivated the young students to take pledge to save the Environment by growing atleast one tree every year.
As many as 100 trees of different variety like fruits, flowers and other ornamental plants were planted in the space behind petrol pump in the campus by Dr Harish Kumar Sharma, Vice Chancellor,Mr. Raman Gupta (Registrar), Mr.Naresh Kumar (District ForestOfficer), Prof.Aradhna Jindal, Principal MM School of Architecture and others. On this occasion,Dr. Manish Sharma, Principal, Department of Pharmacy, all faculty members and students of MM School of Architecture also enthusiastically participated in Tree plantation.
The main objective of the Tree Plantation drive was toinculcate the importance and need for growing more and more trees among the budding architects of MM School of Architecture.