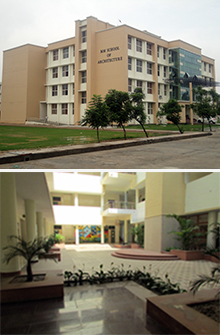 Expert Lecture by Ar. Tanya Bansal
MM School of architecture organized an expert lecture on 3rd July 2019 by Ar. Tanya Bansal on 'Career Opportunities in Real Estate'. Ar. Tanya is a graduate of Guru Nanak Dev University, Amritsar and did her masters in Real Estate Development from University of Maryland, USA. Since then she has been working as Assistant Director in Real Estate Development Programmes in University of Maryland, USA.
Ar. Tanya Bansal discussed the real estate process and how it is an interdisciplinary approach. She explained what real estate means and its three factors of production ie. land, labor and capital. She, while addressing the students discussed the proposed development plan of Dharavi, Mumbai as the Vision. She then briefed the students about Real estate Development Programs, curriculum, credit hours, schedule, hands on learning experiences, various competitions students participate in, institution building, career options in University of Maryland, USA. She concluded her lecture by giving few success tips for future. The lecture was then followed by a concluding note by Ar. Surinder Bagha.
With such informative session, Ar. Tanya Bansal stirred up the minds of the young gems of MMSOA with excellence and career opportunities in real estate. Prof. Aradhana Jindal, principal, thanked the eminent personality for sparing her valuable time for sharing her knowledge and awarded a token of respect to her.