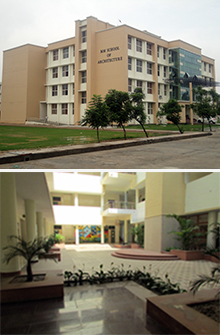 INT-EXT Expo & Awards 2019
Architects' meet was held on 9th February, 2019 at parade ground, sector 17, Chandigarh by the Times of India and Udan media communications pvt. Ltd,to trace the footprints of success and contribution of architects' fraternity in shaping the urban infrastructure of the northern region. 15 Architects and Professionals in different categories were felicitated for their contribution in architectural excellence and innovation.
Prof. Aradhana Jindal, Principal, MM School of Architecturewas honoured for her valuable contribution in 'Architectural Education' at the four day INT-EXT Expo. With a great passion and enthusiasm, she is dedicated to the accomplishment of social and moral responsibility of transforming our new young gems into glorious flowers by inculcating in them, the seeds of academic and technical proficiency. Architectural Education in India is assured to reach new heights of professional glory in her hands as sky is not the limit for her.
During the event, the creative work of architects from the region, including Punjab, Chandigarh, Himachal Pradesh and J&K, was showcased to the esteemed gathering of HNIs, bureaucrats, corporates honchos and industrialists.