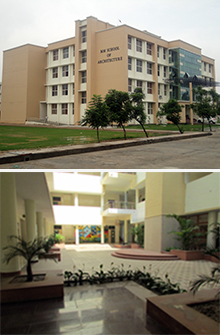 Orientation Day- 2019
MM School of Architecture organized an orientation programme for the newly admitted B.Arch, B.Sc. ID and M.Arch students on 16th August 2019 to formally introduce them as well as to make them familiar with the campus environment. The programme began with a warm welcome of all the new students, their parents, dignitaries who graced the auspicious occasion with their presence by Ar. Deeksha Sharma. After which, was conducted the customary lamp lighting ceremony by Prof. Aradhana Jindal, Principal and all the dignitaries as a tribute to mother Saraswati, the embodiment of knowledge, followed by a brief introduction of the institute, which included the history, motto and reputation of the MMSOA along with recent achievements by Ar. Vipasha Sharma.
The function was then followed by a brief introduction given by the new gems and a cultural programme that featured dance, song and instrumental vocal performances, presented by the students to welcome the new comers.
Prof. Aradhana Jindal, Principal, welcomed the new students and shared her thoughts as how MMSOA is dedicated to the accomplishment of social and moral responsibility of transforming our new young gems into glorious flowers by inculcating in them, the seeds of academic and technical proficiency. She also focused on how the sincerity, honesty and hard work of the students can help them in making a good and responsible human being. Ar. Shreya Gupta, then extended a very hearty vote of thanks to all the dignitaries, students and their parents. Overall, it was a fruitful meeting and the new gems were in high spirits after attending the programme.