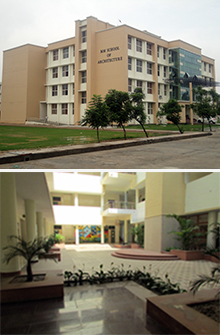 Self Defense workshop for the girl students
MMU, Sadopur (Ambala) organized a workshop on Self Defense techniques for the girl students of the university on 22nd October. Mr. Rajesh Sharma, Director, Sri Krishan Martial Arts Sansthan, Kurukshetra trained the girl students of self defense techniques like hand track defense, growing attack, eyes and elbow attack, neck grab, wrist lock , hair grab to face eve teasing and harassment and encouraged them to raise voice against such type of situations.
Prof. Aradhana Jindal, Dean Students Affairs and Principal, MM School of Architecture welcomed Mr. Sharma's initiative to train the female students and the staff with such techniques. Mr. Rajesh emphasized that Self-defense is an all encompassing skill that anyone can learn and apply to daily life. Physical as well mental self-defense skills are the most important aspects in personal protection. Awareness is quite possibly the most important aspect of self-defense. Knowing 'where one is' and 'who is around' is paramount to personal defense. Martial Arts training is an excellent way to gain self-confidence and skills to further improve one's capabilities. Learning a martial art improves strength, flexibility, stamina, balance and a number of other physical as well as mental skills. The girl students acknowledged the importance of the self defensive techniques taught by Mr. Sharma and assured their implementation for their own safety.