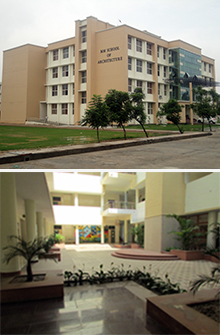 Tree Plantation Drive- 2019
MM School of Architecture, MM University, Sadopur, Ambala in collaboration with Department of Agriculture organized a "Tree Plantation" drive to spread the message of 'Grow Trees & Save Environment' at the campus of MMU, Sadopur, Ambala on 19th August, Monday. The programme was inaugurated by Professor Raman Gupta, Registrar, MM University, Sadopur, Professor Aradhana Jindal, Principal, MM School of Architecture and Dr. Devi Singh, HOD, dept. of Agriculture by planting a tree. Through this drive message of realising the importance of trees in our lives was given and that the initiative taken was a step towards contributing in making the environment better. Young students were motivated  to take pledge to save the environment by grow atleast one tree every year.
As many as 70 trees of different variety like fruits, flowers and other ornamental plants were planted in the ground in front of girls' hostel. On this occasion all the faculty members and students of MM School of Architecture and dept. of Agriculture  enthusiastically participated in tree plantation.
The main objective of the Tree Plantation drive was to inculcate the importance and need for growing more and more trees among the budding architects of MM School of Architecture.