Announcement of Student Council results for 2016-17
MM School Of Architecture organized an interaction between the students and the faculty members during the extracurricular activities slot on 14th September. The session started with the stupendous presentation by the 3rd year students Apaar, Vartika, Prakhar, Himanshu who attended a workshop on 'Social Implications of Architecture' held at NIT Raipur and raised the issues of dependence of building and social environment. The students stood 3rd in the design competition for the resettlement of the village people in urban context.
There was an introduction about INTACH- HERITAGE AWARDS EXHIBITION at Delhiwhich the students of 2nd year and 3rd year recently visited. 7 students who had worked on listing of 21 heritage properties of Ambala during their summer vacations, were given remuneration of Rs 1500/- each by INTACH. Aarush who secured 3rd position in Badminton in Universum'16 held in MMU, Mullana was also honoured on this occasion.

Finally the results of the council members of School of Architecture were announced by the Principal, Prof. Aradhana Jindal. The previous year council members felicitated the new council members with the lapel pins.The council for the academic year 2016-17 is now headed bythe following students: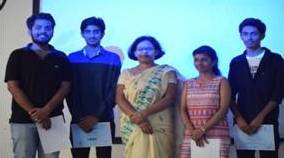 Head boy- Pankaj Chawla
Cultural Head boy- Apaar
Head girl- Vartika Sharma
Cultural Head girl- Neelima
Sports Head boy- Vaibhav
Sports Head girl- Kirti
Press and Publicity- Hanshika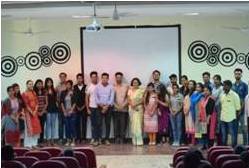 Graphics Head- Kaumarjya
Treasurer- Ranjan
Captain (Mughal House) – Akshay
Captain (Chola House) – KJ
Captain (Rajput House) -Rakshanda
Captain (Maurya House) -Harsimran.
The event ended with the heart warming speech of our guest Ar. Surinder Bagha.