Architectural Design: Site Visit ISBT-43 Chandigarh and ISBT Mohali
The students of B.Arch 7th semester were taken to the case study of Inter-State Bus Terminal sector-43 Chandigarh and ISBT Mohali on August 19, 2016 as a part of their design Studio problem along with two faculty members. With the help of the case study students can easily relate the theoretical aspects of designing with real life exposure.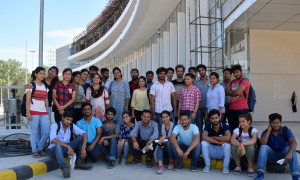 During this study, students showed a lot of enthusiasm not only towards taking measurements but also interviewing people.  They spoke to administrative officials regarding the head count, nos of trips per day, facilities provided for travelers etc. They also interviewed drivers to know about their expectations from ISBT.