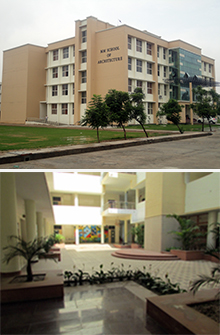 Day Tour to Delhi for 'Heritage Awards for Excellence in Documentation 2016' exhibition on 07.09.2016
As many as 55 students from second and third year along with two faculty members, Ar. Kanika Bansal & Ar. Ravi Mahajan of MM School of Architecture, MM University, Ambala, went to INTACH Heritage Academy, Delhi to be a part of the Exhibition – 'Heritage Awards for Excellence in Documentation 2016'. The exhibition was an extension of the competition organized jointly by the Indian National Trust for Art and Cultural Heritage (INTACH) and the Council of Architecture for all the schools of architecture in India. The exhibition showcased the documentation of heritage buildings and sites of historic, architectural and cultural significance prepared by students of architecture all over India. Besides seeing the exhibition, it also gave a platform to our students to interact with students of other colleges who had participated in the competition and won awards. The visit exposed students to appreciate the significance of documentation and inspired them to be more active in the process of conserving our country's rich built heritage. The learning drawn from the visit will aid our students in compiling work to participate for the 2017 Awards.
 In addition, the students were also taken to the India Habitat Centre, Lodhi Estate, Delhi, a master piece of built form designed by eminent Architect Joesph Allen Stein. The students gathered experiential learning on the campus planning principles best showcased in the site planning and integration of various built forms on the site. They appreciated the environment created inside the complex through different architectural elements, façade treatment, materials, landscape and climate-tempered courtyards. Overall the tour was an enriched learning experience for the faculty and students.