Faculty Participation in 2 Day Workshop Organized By IGBC Chandigarh Chapter
Faculty member Ar  Parul Gupta of MM School of Architecture participated in a two day training cum workshop on Green Building rating systems conducted by IGBC at CII, Sector 31-A, Chandigarh on 7th and  8th September, 2016.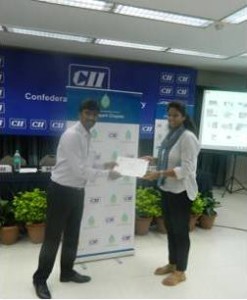 The building sector in India is growing at a rapid pace and is contributing immensely to the growth of the economy. This argues well for the country and now there is an immense need to introduce green concepts and techniques in this sector, which can aid growth in a sustainable manner.
The objective of IGBC Green Buildings rating system is to facilitate a holistic approach to create environment friendly buildings, through architectural design, water efficiency, effective handling of waste, energy efficiency, sustainable buildings, and focus on occupant comfort & well-being. The green concepts and techniques in the building sector reduce fossil fuel used for commuting, handling of consumer waste and conserving natural resources.
The workshop addressed these challenges thereby creating awareness about green buildings and the green building rating system. A site visit was also organized to GLM Infratech, sector 31, Panchkukla where green building practices are being followed. This workshop was very helpful in the knowledge up gradation of the faculty.