One day Trip to Kurukshetra "Land of Lord Krishna"
MM school of Architecture organised one day trip to Kurukshetra on 9th February 2017 for the students and the teaching and non-teaching staff.
During this trip the students and staff visited the Krishna Museum, Panorama and Dharohar museum. The Krishna museum unravels the mystique of the cult of Lord Krishna. It endeavours to present the multifaceted personality of Krishna as narrated in the episodes of Mahabharata and the Bhagvata Purana. An extension of this museum is the Multimedia Mahabharata and Gita Gallery set up by Haryana Tourism in collaboration with Ministry of Tourism, Government of India. The next destination was Dharohar museum in Kurukshetra University, showcasing the unique archaeological, cultural and architectural heritage of Haryana. It also has an open-air theatre for cultural performances.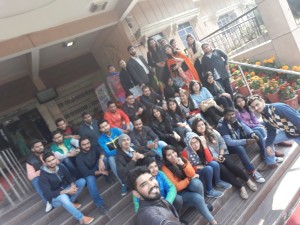 The students not only gained knowledge about museum planning but also were enlightened about the culture and traditional heritage of Haryana State. With the efforts of MM University, the staff of MM School of Architecture got an opportunity to visit the land of Lord Krishna.