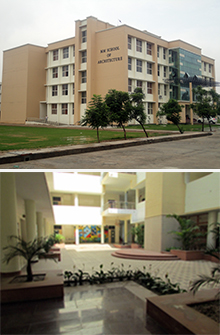 SPIC MACAY performance by renowned Kathak Dancer, Ms. Malti Shyam
The SPIC MACAY (Society for the Promotion of Indian Classical Music and Culture Amongst Youth) organised Kathak dance performance of renowned Kathak dancer, Ms. Malti Shyam in the MM university auditorium. SPIC MACAY (Society for the Promotion of Indian Classical Music and Culture Amongst Youth) is a non-political, nationwide, voluntary movement founded in 1977 by Dr Kiran Seth, Professor-Emeritus at IIT-Delhi who was awarded the 'Padma Shri' for his contribution to the arts in 2009. SPICMACAY's objective is to enrich the quality of formal education by increasing awareness about different aspects of Indian heritage and inspiring the young mind to imbibe the values embedded in it. For this, the most accomplished artistes of the country render programmes of Indian classical music and dance, folk, poetry, theatre, traditional paintings, crafts & yoga primarily in schools, colleges and universities.
The dance programme started with lamp lighting ceremony by the Chief Guest, Dr Harish Sharma, Vice Chancellor, MM University, Sadopur-Ambala; Ms. Malti Shyam and other guests. In his welcome speech, Dr Sharma applauded the efforts of SPIC MACAY in instilling our rich cultural values among the youth. Prof. Aradhana Jindal, Dean Student Welfare welcomed Ms. Malti Shyam, who is one of India's foremost exponents of the Lucknow Gharana of Kathak. Trained under Shrimati Reba Vidyarthi and Pandit Biju Maharaj. She is known for the lyrical grace and technical precision of her dance.
Her Kathak dance performance with different music tones and rhythmic levels left the audience spellbound. The great artist mesmerized the audience with her heart-pleasing dance performance.
Prof. Raman Gupta, Registrar presented mementoes to the acclaimed dancer and her team of musicians and proposed vote of thanks.