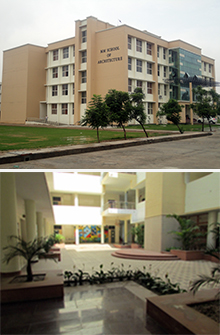 SRIJAN' 2016
MM School of Architecture organized Annual fest "Srijan 2016" on 27th & 28th The event kicked off with lamp lighting ceremony by our chief guest Artist R.K. Sharma, Ravinder Khanna, Dean Academics and Prof. Aradhna Jindal, Principal MM School of Architecture and other eminent guests.After this auspicious ceremony, Principal MMSOA declared the event open. The first day events started with the judgement of Rangoli competition by eminent chief guest. The fever of competition in between houses gripped all the four houses near the end of the day. All the students participated with fuel zeal & enthusiasm in poem writing, fire on the canvas, soap chiseling, pocket mai rocket etc. The second half of the day was quite colourful with cultural programmes like Fashion show, singing, dancing being put up by the students.
The students enacted Nukkadnatak on social themes like different aspects of politics, drug abuse, Swatch Bharat Abhiyan etc. to spread awareness among the students about social issues.
The second day started with the cheerful events like adptune, Group discussion and hasgulle. After that all the events like ande ka fanda, Taj posi, nail art, Tatto making and lime art etcwere held with full pitch of energy & joy.In the Second half of the day, a team work was represented by students in the events like Tug of war, Group dance and qawali. The Theme of the group dance was Folk dance with the twist which the students performed very well and Mughal house showed a very heart touching performance.The day ended with the prize distribution to all the winners of the competitions.
Prof. Aradhana Jindal announced the winner of the Srijan 2016 as Rajput House while the runner up position was logged by Mughal house .Afterwards Diwali was celebrated in the courtyard with joy by lighting up fire crackers.