Symposium on 'Hill Architecture'
The students of MM School of Architecture attended a symposium on "Hill Architecture" which was conducted at NIT Hamirpur; HP. Eighteen students from third year including two faculty members from our college participated in the symposium. The key speaker was Ar. N.K. Negi who briefed the students about how to select the site on the mountains, how to work in the slope gradient and how to place the different buildings according to the slope of the site. The cultural aspects which relate to the topic of hill architecture were also discussed by Ar. Jyoti P. Sharma which showed the process of designing on hills while respecting the nature and the heritage related to the tribes living at such places.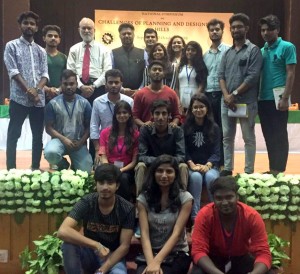 Ar. Surinder Bagha was also invited to speak on the topic, where he discussed about the technicalities of designing on hill while explaining the various components of building specially designed on such terrain. He discussed the different projects done by Saakaar Foundation. Ar. Nilanjan Bhowal who has a designing firm in Delhi called Design Consortium, has spent most of his career working on the hills and was widely applauded for his projects on the hills like renovation of Shri Govindji Temple, Manipur, Bhimtal Cottages, Camp Forktail Creek etc. The seminar ended with a group discussion on the topic and not only the students but the faculty members gained a lot from the same.